KONAMI DIGITAL ENTERTAINMENT SHIFTS INTO HIGH GEAR WITH THE LATEST Yu-Gi-Oh! TRADING CARD GAME BOOSTER SET HIGH-SPEED RIDERS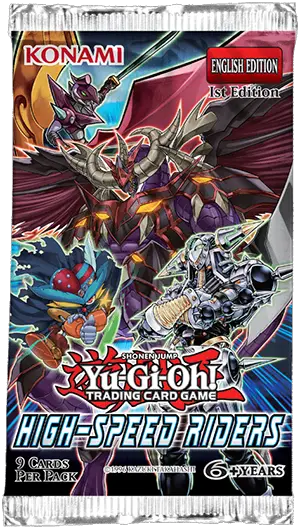 El Segundo, Calif. – September 23, 2015 – Yu-Gi-Oh! TRADING CARD GAME (TCG) players preparing for the new tournament season can rev-up their game to the next level with High-Speed Riders. This special booster set from Konami Digital Entertainment, Inc., a leader in the trading card game category, is inspired by the Yu-Gi-Oh! 5D's era providing an assortment of cards appealing to both beginning and intermediate level Duelists.
Right out of the gate, players will notice how special this set is, from brand-new Synchro cards to the great selection of other cards, and how High-Speed Riders provides Duelists many Deck-building options. Fans that want to fortify their Extra Deck can check out the new Speedroid, Hi-Speedroid, and Goyo Synchro monsters like Goyo Predator.
Only the most adept Duelists will be able to master the power of PSY-Framelord Omega and the new PSY-Frame monsters.
The awesome Hot Red Dragon Archfiend Abyss will delight fans of Jack Atlas, from the Yu-Gi-Oh! 5D's and Yu-Gi-Oh! ARC-V animated and manga series, which is just one of the other new cards played by him. Many of these cards, plus other popular cards like Red Dragon Archfiend, will have synergy with the Crossed Souls booster set and the upcoming Dimension of Chaos booster set.
Each High-Speed Riders pack contains nine cards, including one guaranteed foil card for $3.99 per pack and will be available at stores nationwide October 2, 2015.
The High-Speed Riders booster set contains 60 cards:
27 Commons
12 Rares
10 Super Rares
6 Ultra Rares
5 Secret Rares
Duelists can watch all-new Yu-Gi-Oh! ZEXAL episodes every Tuesday as well as all of classic Yu-Gi-Oh!, Yu-Gi-Oh! GX, and Yu-Gi-Oh! 5D's on http://www.yugioh.com in the United States. In addition, Yu-Gi-Oh! ZEXAL airs Saturday mornings on Nicktoons from 10-11. In Canada, Duelists can watch episodes of Yu-Gi-Oh! ARC-V every Friday and Saturday on Teletoon!
For more information on KONAMI or the Yu-Gi-Oh! TRADING CARD GAME, please visit http://www.yugioh-card.com or call 310-220-8630 to speak directly with a Yu-Gi-Oh! customer support team member.
About The Yu-Gi-Oh! TCG
The Yu-Gi-Oh! TRADING CARD GAME is the #1 trading card game in the world with over 25 billion cards sold. It is a game of strategy, where players create individual Decks of cards collected from Structure Decks and Booster Packs.
Two players engage in a Duel while using cards that represent powerful monsters, magical Spells and surprising Traps. Duelists with well-constructed Decks, dominating monsters, solid strategy and good fortune are the victors in the Yu-Gi-Oh! TCG. Konami Digital Entertainment, Inc. is the exclusive licensee and rights holder to the Yu-Gi-Oh! TCG in North America and Latin America.
About KONAMI
KONAMI is a leading developer, publisher and manufacturer of electronic entertainment properties and traditional trading card games. KONAMI's software titles include the popular franchises Metal Gear Solid, Silent Hill, DanceDanceRevolution and Castlevania, among other top sellers. KONAMI is also the manufacturer of the wildly popular Yu-Gi-Oh! TRADING CARD GAME, which has sold more than 25 billion cards worldwide. The latest information about KONAMI can be found on the Web at http://www.konami.com
KONAMI CORPORATION is a publicly traded company based in Tokyo, Japan with subsidiaries, Konami Digital Entertainment Co., Ltd. in Tokyo, Japan, Konami Digital Entertainment, Inc. in the United States and Konami Digital Entertainment B.V. in Windsor, the United Kingdom. Details of the products published by KONAMI can be found at http://www.konami.com