Aquarius Entertainment Merchandising to Develop Yu-Gi-Oh! Puzzles, Lunch Boxes, Playing Cards
Specialty Branded Product Line Hits Retail Spring/Summer 2016 in North America, Australia, and New Zealand
New York – February 22, 2016 – 4K Media Inc., the Konami Digital Entertainment, Inc. subsidiary that manages the licensing and marketing of the Yu-Gi-Oh! brand, today announced it has signed with Aquarius for the development of a Yu-Gi-Oh! branded specialty products line which will launch into retail by spring/summer 2016 in the U.S., Canada, Australia and New Zealand. The announcement was made today by Jennifer Coleman, Vice President of Licensing and Marketing for 4K Media, and Konrad Hoenig, President at Aquarius Entertainment Merchandising Inc.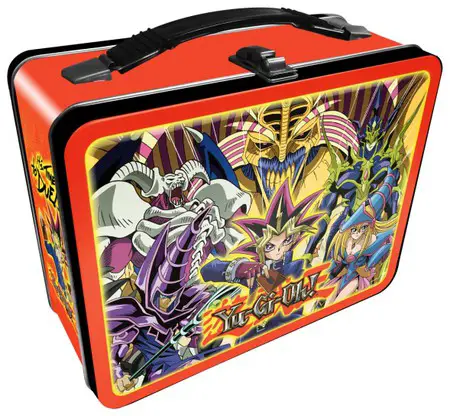 "Aquarius has been very successful in launching other popular IP product lines into the global marketplace, and we look forward to collaborating with them on fun product and designs that convey the style and uniqueness of the Yu-Gi-Oh! brand," said Coleman in announcing the licensing agreement.
Aquarius Entertainment will design puzzles, lunch boxes, die-cut chunky wood magnets, desk top standees and playing cards featuring the characters and designs based on artwork from the Yu-Gi-Oh! animated series.
Yu-Gi-Oh! products produced by Aquarius will be distributed by its sister company, NMR Distribution, through specialty, mid-tier, mass and department stores in the United States, Canada, Australia and New Zealand beginning in February 2016.
"The distinctive artwork of the Yu-Gi-Oh! animated series and the universal appeal of the series' instantly recognizable characters are a tremendous benefit in designing the Yu-Gi-Oh! product line," added Konrad Hoenig. "The Yu-Gi-Oh! brand is so well-known and has so many fans around the world, we're anticipating a very successful product launch and strong retailer support."
About Aquarius Entertainment Merchandising, Inc.
Headquartered in Ontario, Canada, Aquarius Entertainment Merchandising Inc. markets intellectual properties (IP) via licensed youth-oriented and young at heart products. Proud to work with the world's leading licensors and brands, the company is continually seeking to create new licensing relationships, Aquarius Entertainment Merchandising handles all product design through its in-house design team who, in addition to faithfully creating artwork according to licensor specifications, have grown to become well known for contributing new creative ideas and concepts towards the overall goal of enhancing the execution of the property. The company's products are distributed via NMR Distribution, a leading North American supplier to specialty retailers of licensed youth oriented product.
About 4K Media
New York City-based 4K Media Inc. (a wholly owned subsidiary of Konami Digital Entertainment, Inc.) is a brand management and production company best known for its management of the Yu-Gi-Oh! franchise outside of Asia. This year, the Yu-Gi-Oh! anime brand celebrates its 15th anniversary of entertaining and engaging young audiences in the United States and Europe, and 2017 marks its next exciting theatrical release. Beyond Yu-Gi-Oh!, 4K Media is also actively expanding both its licensing and production slate to incorporate other brands including the recently announced representation of Rebecca Bonbon.
Sourced via our friends at Anime News Network