Philippine television channel HERO TV announced on Wednesday that it will air the Yu-Gi-Oh! Arc-V anime.
Yu-Gi-Oh! Arc-V will premiere on November 14, 2016.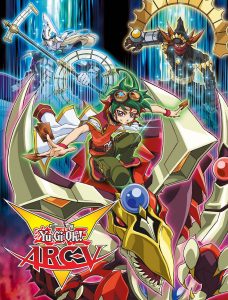 The Yu-Gi-Oh! Arc-V anime, the newest Yu-Gi-Oh! anime series inspired by Kazuki Takahashi's original manga, premiered in Japan in April 2014.
The story is set in Maiami City on the coast of Japan. Yūya is a second-year middle school student who loves to entertain people. Although he is small, he has been training his tough body and Action Duelist arms with weapons. His dream is to become an "Entertainment Duelist" who makes people smile. One day, Yūya ends up fighting an exhibition match with the current champion of the Pro Duel world.
HERO TV previously aired the Yu-Gi-Oh! Zexal series in 2013, and premiered the Yu-Gi-Oh! Zexal II series on May 24 of this year.
Hero (sometimes referred to by fans as Hero TV) is a Filipino cable television network based in Quezon City. It is owned and operated by ABS-CBN Cable Channels, a subsidiary of the media conglomerate ABS-CBN Corporation. Its programming is composed primarily of Filipino-dubbed Japanese animation.