IT'S TIME TO DUEL AT SAN DIEGO COMIC-CON! KONAMI DIGITAL ENTERTAINMENT SHOWCASES ITS Yu-Gi-Oh! TRADING CARD GAME AND MUCH MORE
Company's Con Offerings Include Personalized Yu-Gi-Oh! TRADING CARD GAME Token Card, an Exclusive Game Mat and Organized Play Room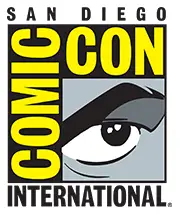 El Segundo, Calif. (July 19, 2017) – Comic-Con International: San Diego attendees will want to head over to the Konami Digital Entertainment, Inc. (KONAMI) booth #3713 as the company showcases the world's best-selling Yu-Gi-Oh! TRADING CARD GAME (TCG) and providing attendees with loads of entertaining and engaging activities to experience at Comic-Con from July 19th to July 23rd.
The world famous five-day show continues to draw more than 130,000 pop-culture fanatics every year. 2017 is expected to be bigger and better than ever and Konami is in the heart of the action. Fans will want to grab a spot in line to create their own exclusive one-of-a-kind Yu-Gi-Oh! Token Card. They can choose from 6 different card backgrounds, with Dueling legends Yugi, Jaden, Yusei, Yuma, Yuya or the 2017 Comic-Con International: San Diego logo – all suitable for use during Duels!
Comic-Con International: San Diego attendees looking for that all important Comic-Con exclusive can head over to the booth's retail counter early in the show to get KONAMI's limited edition, Yu-Gi-Oh! TCG game mat before it sells out! Available for just $30, this collectible mat features the dual nature of Yugi Muto and Yami Yugi!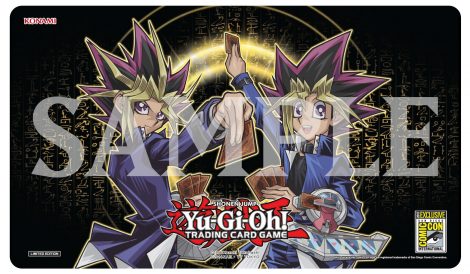 Exclusive Game Mat for 2017 Comic-Con International: San Diego
Fans can also get a first look and purchase Yu-Gi-Oh! TCG products at Comic-Con every day of the show while supplies last, including the recently released Battles of Legend – Lights Revenge –, Pendulum Evolution, and Starter Deck – Link Strike –, which debuts brand-new Link Monsters to the Yu-Gi-Oh! TCG.
With over 45 million downloads to date, the mobile app, Yu-Gi-Oh! Duel Links continues to be enjoyed by fans worldwide, and San Diego Comic-Con attendees can experience this exciting free-to-play mobile game in a special tournament format. Choose from the selection of pre-generated Characters to Duel with their signature Decks, and battle your way to the top to earn exclusive prizes! The goal is to win 5 Duels in a row, but if you lose, you have to start over! 
Exclusive Yu-Gi-Oh! Duel Links Tournament Prizes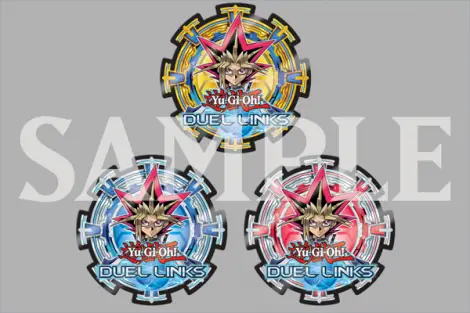 Comic-Con International: San Diego attendees that don't know how to play the Yu-Gi-Oh! TCG, or want to brush up on their Dueling skills and learn the new Link Summon game mechanic can complete a demo with one of our experts for a show exclusive coupon to claim one (1) free booster pack with the purchase of any Starter Deck! Players wanting to tweak their Deck-building strategies can get helpful hints from KONAMI's many Yu-Gi-Oh! TCG experts on-hand throughout the show. Plus, players feeling lucky and confident in their Dueling skills can Duel the Master as he sits on his royal throne, for a chance to take home some other prizes!
Duelists looking for more opportunities to show off their Dueling techniques can visit the Yu-Gi-Oh! TCG Organized Play Room #16B on the Mezzanine level where KONAMI will host a variety of Yu-Gi-Oh! TCG events from Thursday through Sunday including Win-A-Mats, 2018 Regional Qualifiers, ATTACK OF THE GIANT CARD!! and more!  Dragon Duel Tournaments, for children born 2005 or later, will take place on Friday, Saturday and Sunday only. And best of all – these tournaments are free to Comic-Con attendees!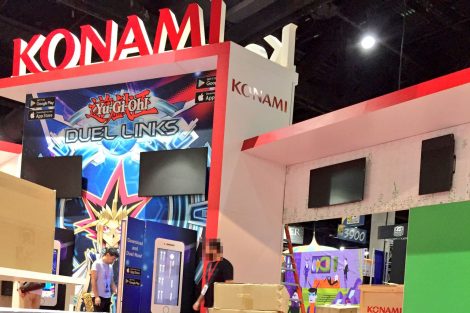 Comic-Con International: San Diego hours:
Wednesday, July 19: 6:00 p.m. – 9:00 p.m. (Preview Night; some booth activities not available)
Thursday, July 20: 9:30 a.m. – 7:00 p.m.
Friday, July 21: 9:30 a.m. – 7:00 p.m.
Saturday, July 22: 9:30 a.m. – 7:00 p.m.
Sunday, July 23: 9:30 a.m. – 5:00 p.m.
Duelists can now watch episodes of the exciting new Yu-Gi-Oh! animated series, Yu-Gi-Oh VRAINS, available subtitled on Crunchyroll. The series will be simulcast with a new episode available one hour after it is broadcast in Japan, at 6:25AM EST (Simulcast currently available in the US and Latin America). Watch here: http://www.crunchyroll.com/yu-gi-oh-vrains!
Additionally, Duelists can watch a new episode of Yu-Gi-Oh! ARC-V every Sunday on Nicktoons – check local listings for times. In addition, all-new Yu-Gi-Oh! ZEXAL episodes every Tuesday as well as all of classic Yu-Gi-Oh!, Yu-Gi-Oh! GX, and Yu-Gi-Oh! 5D's can be seen on www.yugioh.com in the United States. In Canada, Duelists can watch episodes of Yu-Gi-Oh! ARC-V every Friday and Saturday on Teletoon!
For more information on KONAMI or the Yu-Gi-Oh! TRADING CARD GAME, please visit www.yugioh-card.com or call 310-220-8630 to speak directly with a Yu-Gi-Oh! customer support team member.
About The Yu-Gi-Oh! TCG
The Yu-Gi-Oh! TRADING CARD GAME is the #1 trading card game in the world with over 25 billion cards sold. It is a game of strategy, where players create individual Decks of cards collected from Structure Decks and Booster Packs. Two players engage in a Duel while using cards that represent powerful monsters, magical Spells and surprising Traps. Duelists with well-constructed Decks, dominating monsters, solid strategy and good fortune are the victors in the Yu-Gi-Oh! TCG. Konami Digital Entertainment, Inc. is the exclusive licensee and rights holder to the Yu-Gi-Oh! TCG in North America and Latin America.
About KONAMI
KONAMI is a leading developer, publisher and manufacturer of electronic entertainment properties and traditional trading card games. KONAMI's software titles include the popular franchises Metal Gear Solid, Silent Hill, DanceDanceRevolution and Castlevania, among other top sellers. KONAMI is also the manufacturer of the wildly popular Yu-Gi-Oh! TRADING CARD GAME, which has sold more than 25 billion cards worldwide. The latest information about KONAMI can be found on the Web at www.konami.com. KONAMI HOLDINGS CORPORATION is a publicly traded company based in Tokyo, Japan with subsidiaries, Konami Digital Entertainment Co., Ltd. in Tokyo, Japan, Konami Digital Entertainment, Inc. in the United States and Konami Digital Entertainment B.V. in Windsor, the United Kingdom. Details of the products published by KONAMI can be found at www.konami.com.