Today Konami unveiled a massive new update for its wildly successful mobile game Yu-Gi-Oh! Duel Links during a Tokyo Game Show 2017 stage event. The official Duel Links Facebook page had this: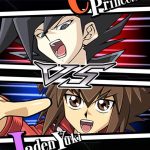 The update is centered around Yu-Gi-Oh! GX, the second series in the popular anime franchise. Famous archetypes from that era, like Elemental Heroes and Ancient Gears, will be added to the game. In addition to that, players will also be able to unlock Yu-Gi-Oh! GX era characters for the first time like Jaden Yuki (Yuki Judai), Alexis Rhodes (Tenjoin Asuka), Chazz Princeton (Manjome Jun) , Aster Phoenix (Edo Phoenix), and more!
Yu-Gi-Oh! GX world launches September 28, 2017
Since the PC version is playable on a bigger screen compared to the existing smartphone version, one of its appeals is the ability to greater enjoy card effects and the intensity of the monsters.
Additionally, the PC version can share data with the smartphone version, allowing you to play on PC when you're at home, and on your smartphone when you're on the go.
The PC version will be available on Steam sometime this winter, announcement to follow.