This is one fight you can't afford to miss…
Bandai Namco recently posted on social media their schedule for Jump Force's post-launch content through August. Starting next month, the Clan Feature, Vertex Event, and some new Avatar costumes will be added to the game via free update. Then, in May, the paid DLC will start. Those who have purchased Characters Pass DLC pack will receive three new playable characters in May, one of which will be Yu-Gi-Oh!'s Seto Kaiba. The other two DLC characters coming in May have yet to be revealed.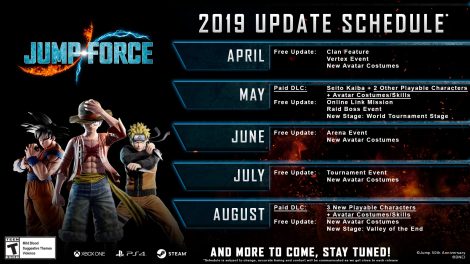 Seto Kaiba made his first appearance in the first episode of Yu-Gi-Oh! and acted as Yugi Moto's rival throughout a large portion of the series. We can't wait to see Kaiba inevitably use the Blue-Eyes White Dragon and maybe Obelisk the Tormenter.
Jump Force is currently available for Xbox One, PlayStation 4, and PC. You can also buy the Characters Pass, which includes nine DLC characters to be added to the game over the next several months, each of which comes with a set of Avatar skills and costumes.
UPDATE 15 Mar 2019:
PRESS RELEASE
FIRST JUMP FORCE DLC FIGHTER AND UPCOMING DLC ROADMAP ANNOUNCED FROM BANDAI NAMCO ENTERTAINMENT AMERICA INC.
Seto Kaiba, Yugi Muto's arch-rival from the Yu-Gi-Oh! series, has been confirmed as one of the nine upcoming DLC characters for JUMP FORCE, now available for the PlayStation®4 computer entertainment system, Xbox One, and PC via STEAM®. Kaiba will be released in May along with two other characters. The following six will be released at later dates.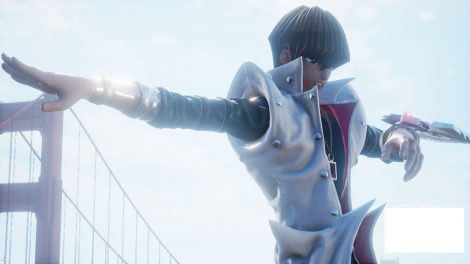 BANDAI NAMCO Entertainment America Inc. has also released an upcoming DLC roadmap for JUMP FORCE through August 2019. The roadmap outlines both free updates and paid DLC items with more information to be provided at a later date. All paid DLC items are included in the JUMP FORCE Fighters Pass and can also be purchased individually. Additional DLC and updates are planned for JUMP FORCE beyond August 2019.
April 2019
Free Update

Clan feature
Vertex event
New avatar costumes
May 2019
Free Update

Online Link Mission
Raid Boss Event
New stage: World Tournament Stage

Paid DLC

Seto Kaiba and two other playable characters
Avatar costumes and skills
June 2019
Free Update

Arena event
New avatar costumes
July 2019
Free Update

Tournament event
New avatar costumes
August 2019
Free Update

New avatar costumes
New stage: Valley of the End

Paid DLC

Three new playable characters
Avatar costumes and skills