Just when everyone were getting used to the idea of the popular series ending, there's news of a new season showing in Ireland. No one knows much about it – just that no one has heard of it before and it was not one of Japan's original seasons.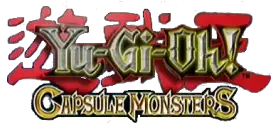 Yu-Gi-Oh!: Capsule Monsters is a series of episodes never aired in Japan that will release in the US on DVD and on TV tentatively in the fall. Before you can see them on TV you will be able to pick up Part 1 of this never before seen movie on DVD this spring/summer.
Suspected to be made by the same people as the American Yu-Gi-Oh! Movie, the characters play the game with little cannons attached to their arms like Duel Disks. Atem/Atemu is still here, along with the Millennium Items, and everyone seems to have new outfits. It also seems to be linked to Mattel, who are selling the Capsule Monsters game and these episodes are said to be a 12 episode story arc.
Screen Shots:
We'll have more info and an episode guide as it becomes available.