KONAMI DIGITAL ENTERTAINMENT RINGS IN THE NEW YEAR WITH TWO NEW Yu-Gi-Oh! TRADING CARD GAME PRODUCTS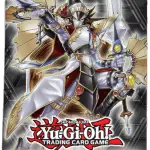 El Segundo, Calif. (January 12, 2016) – With the faint scent of pine still wafting through the air and a few stray decorations not yet put away, Konami Digital Entertainment, Inc. (KONAMI) eases the post-holiday lull with two new Yu-Gi-Oh! TRADING CARD GAME (TCG) products to be released this month.  With this great mix of new and classic cards as well as popular themes, January is sure to start out with a bang for both beginning and existing players.
On January 15, the Breakers of Shadow booster set hits store shelves and Duelists will be introduced to new Deck themes and strategies, and can witness the return of a Yu-Gi-Oh! TCG legend. In Breakers of Shadow, the Shiranui use the strength of Samurai spirit warriors to power players through Duels, while Twilight Ninjas rely on speed and numbers to overwhelm foes. Opponents will also feel the power of the Dinomists, steam-powered Pendulum dinosaurs that can land a heavy hit when a player least expects it. Lastly, swords will clash as the legendary warrior Buster Blader is back as Buster Blader, the Destruction Swordmaster, with a mighty band of new support cards that make this iconic monster stronger than ever before!
New cards for existing themes are also included like Melodious, Goyo, Majespecter, Odd-Eyes, Performapal, Magicians, and more, headlined by over a dozen new Extra Deck monsters. Many cards in this set will have excellent synergy with the recently released Master of Pendulum Structure Deck. Also, Duelists can now look forward to getting at least one foil card in every booster pack (MSRP: $3.99 per pack).
Then on January 29, the Emperor of Darkness Structure Deck will be available at retailers nationwide. The ready-to-play Emperor of Darkness Structure Deck is filled with some of the most imposing Monsters ever made, and they demand Tribute! Monarchs are high-Level monsters that unleash their devastating elemental powers when Tributes are offered to Summon them. Players can strike a dynamic combo using the mighty Erebus the Underworld Monarch with new support cards like Eidos the Underworld Squire or The Prime Monarch to thwart an opponent's strategy and reinforce their Deck. In addition to this 41-card Deck, Duelists can add a brand-new Token card to their collection (MSRP: $9.99 per Deck).
Duelists can watch all-new Yu-Gi-Oh! ZEXAL episodes every Tuesday as well as all of classic Yu-Gi-Oh!, Yu-Gi-Oh! GX, and Yu-Gi-Oh! 5D's on www.yugioh.com in the United States. In Canada, Duelists can watch episodes of Yu-Gi-Oh! ARC-V every Friday and Saturday on Teletoon!
For more information on KONAMI or the Yu-Gi-Oh! TRADING CARD GAME, please visit www.yugioh-card.com or call 310-220-8630 to speak directly with a Yu-Gi-Oh! customer support team member.
About The Yu-Gi-Oh! TCG
The Yu-Gi-Oh! TRADING CARD GAME is the #1 trading card game in the world with over 25 billion cards sold. It is a game of strategy, where players create individual Decks of cards collected from Structure Decks and Booster Packs. Two players engage in a Duel while using cards that represent powerful monsters, magical Spells and surprising Traps. Duelists with well-constructed Decks, dominating monsters, solid strategy and good fortune are the victors in the Yu-Gi-Oh! TCG.  Konami Digital Entertainment, Inc. is the exclusive licensee and rights holder to the Yu-Gi-Oh! TCG in North America and Latin America.
About KONAM
KONAMI is a leading developer, publisher and manufacturer of electronic entertainment properties and traditional trading card games. KONAMI's software titles include the popular franchises Metal Gear Solid, Silent Hill, DanceDanceRevolution and Castlevania, among other top sellers.  KONAMI is also the manufacturer of the wildly popular Yu-Gi-Oh! TRADING CARD GAME, which has sold more than 25 billion cards worldwide.  The latest information about KONAMI can be found on the Web at www.konami.com. KONAMI HOLDINGS CORPORATION is a publicly traded company based in Tokyo, Japan with subsidiaries, Konami Digital Entertainment Co., Ltd. in Tokyo, Japan, Konami Digital Entertainment, Inc. in the United States and Konami Digital Entertainment B.V. in Windsor, the United Kingdom. Details of the products published by KONAMI can be found at www.konami.com.