2014 series Arc-V kicks off its third year with an hour special on April 3rd. This will be introducing spring's new themes and prepare for returning characters.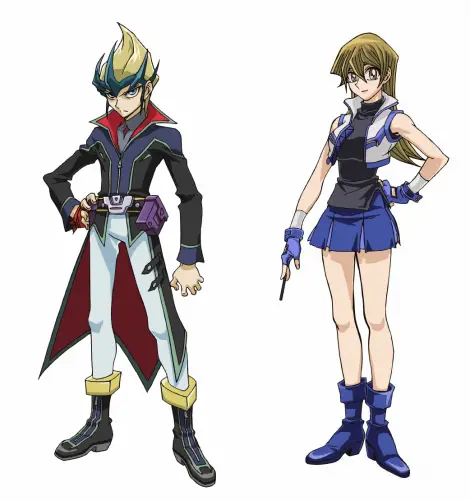 Yu-Gi-Oh! Arc V! Asuka Tenjoin (CV: Sanae Kobayashi – named Alexis Rhodes in English) and Ed Phoenix (CV: Akira Ishida – Aster in English) from GX and Kite Tenjo / Kaito Tenjo (CV Kōki Uchiyama) from Zexal return this spring, with their updated character designs now previewed.
Shuuto Miyazaki, Ryo Matsuda, & Ryo Kitamura will be performing the series' fifth opening, "Kibō no Hikari" while Kūsō Iinkai are on the ending, "Vision."
Don't forget the 20th anniversary movie The Dark Side of Dimensions opens April 23rd. Leading in will be an April 17th special with Hiroki Takahashi's Katsuya Jonouchi and Junko Takeuchi (Mokuba Kaiba).
Source moca via crunchyroll