Philippine television channel Hero TV schedules the premiere of the Yu-Gi-Oh! Zexal II anime

Yu-Gi-Oh! Zexal II will premiere on May 24, with airings at 11:30 a.m., 5:30 p.m., and 11:30 p.m. on weekdays.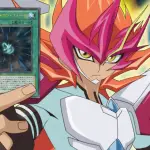 The near-future story of Yu-Gi-Oh! Zexal II revolves around Yūma Tukumo, a 13-year-old rookie duelist, and Astral, the mysterious lifeform from a parallel world who suddenly appears before Yūma.
Satsohi Kuwabara directed the series in GALLOP, with Shin Yoshida supervising scripts. Kazuki Takahashi drew the original character designs, and Hiroki Harada designed the characters for animation. Takashi Nakamura was in charge of backgrounds. Kenji Akazawa was in charge of compositing.
The series premiered in 2012. Hero TV previously aired the Yu-Gi-Oh! Zexal series in 2013.
Source: Hero TV fb, Anime News Network