KONAMI DIGITAL ENTERTAINMENT BRINGS ITS NEW Yu-Gi-Oh! TRADING CARD GAME PRODUCTS TO GAMA TRADE SHOW
 El Segundo, Calif. (March 14, 2017) – Returning sponsor Konami Digital Entertainment, Inc. (KONAMI) is excited to share its 2017 Yu-Gi-Oh! TRADING CARD GAME (TCG) product portfolio at the Game Manufacturers Association (GAMA) annual trade show March 13-17 at Bally's Event Center in Las Vegas.   KONAMI will showcase products scheduled to be released later this year in booth #206 and conduct two seminars during the show.
"Out of the gate, 2017 has been a hugely successful year and we are looking forward to continued growth.  Our new Yu-Gi-Oh! TRADING CARD GAME products, combined with our growing Organized Play programs and fan base, have set the stage for a great year ahead," said Yumi Hoashi, Senior Vice President, Card Business for Konami Digital Entertainment, Inc.  "With a growing and loyal consumer base, we are excited to share our newest product release schedule with our hobby partners as we remain dedicated to developing products that bring excitement to both new players and competitive Duelists."
KONAMI will host two seminars at this year's GAMA Trade Show, one on March 14 at 11 a.m. and one on March 15 at 11 a.m. During the first seminar, the company will outline their Official Tournament Store (OTS) Program, with a focus on store benefits and Organized Play programs. The second seminar will focus on a brand new game mechanic, Link Summoning, being introduced to the Yu-Gi-Oh! TCG this summer. For more information on KONAMI's extensive Organized Play programs, including opportunities for new players to learn how to play the game, go to http://www.yugioh-card.com/en/events/index.html.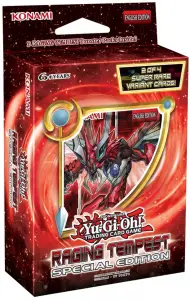 Sure to draw in players wanting more of January's Raging Tempest booster set, KONAMI launches Raging Tempest Special Edition on March 17. This Special Edition brings Zoodiacs, Shinobirds, and Windwitches back for an encore! Cards like Zoodiac Ratpier, That Grass Looks Greener, and Sea Monster of Theseus reshaped the tournament scene, and the Special Edition offers another chance to add them to your collection with three booster packs of Raging Tempest, one of two Super Rare Cards from the upcoming Maximum Crisis booster set, either Zoodiac Kataroost or Baobaboon, plus one of two variant Super Rare Cards, either Number 22: Zombiestein or Masked HERO Blast – all for less than what it would cost to buy three individual booster packs. MSRP: $9.99 per box.
Rounding out the month, players and retailers alike can expect great things from Duelist Saga when it releases on March 31 where secret histories and ancient powers are revealed! This special set of 100 cards, all using a new, different Ultra Rare technology, features cards from all five incarnations of Yu-Gi-Oh! The 40 new cards in Duelist Saga are a mix of cards from the manga series, the animated series, and cards inspired by some of the coolest monsters and concepts from each series!   Bakura's Diabound Kernel is made real, and the Sacred Beasts of the Yu-Gi-Oh! GX animated TV series get new support! Cards used by Mai, Yuya, and Yusei all make appearances as well.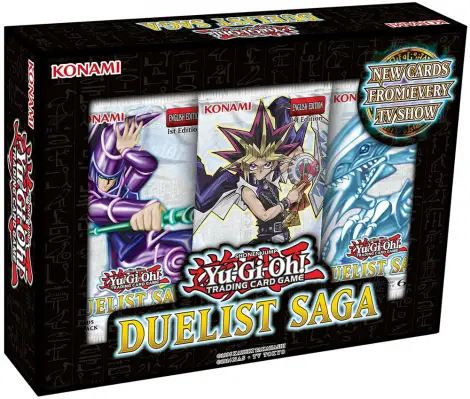 Duelist Saga also has 60 more cards that span the entirety of Yu-Gi-Oh!'s history, featuring memorable cards from the various series. Each box contains three mini-packs of five cards each, for a total of 15 cards per box: nine new cards and six previously available cards. MSRP: $14.99 per box.
KONAMI introduced Machine Reactor Structure Deck and Dinosmasher's Fury Structure Deck both due out on April 14, just in time for the busy Easter shopping season, during the GAMA Trade Show.  The Machine Reactor Structure Deck uses the popular "Gadget" series of monsters, most recently seen in Movie Pack Gold Edition, to power up gargantuan "Ancient Gear" monsters.  The Dinosmasher's Fury Structure Deck is adept at Summoning multiple Dinosaurs of the same Level at the same time, and most of those monsters are Level 4, which makes this Deck a perfect fit for Xyz Summoning! Each Structure Deck comes with a 40-card Main Deck and one Token Card for a total of 41 cards. MSRP: $9.99 per Deck.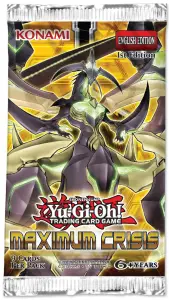 For stores wanting to help get Duelists tournament ready, the Maximum Crisis booster set releases May 5.  This all-new 100-card booster set is the climax of the 2016-2017 Dueling season, introducing three new themes as well as bold new cards for a wide variety of popular Decks like Performapal, Speedroid, Phantom Knights, Zoodiac, and more. Pendulum Summoning will undergo its final evolution in Maximum Crisis with a pair of Pendulum Monsters with Scales of 0 and 13, opening up the ability to Pendulum Summon monsters of any Level in any Deck! But that's not the only type of Summoning that's evolving. Following up on February's Fusion Enforcers set, Maximum Crisis introduces a new Fusion Summoning Spell Card that lets players keep their Fusion Monster while giving back the monsters they just fused together! Maximum Crisis contains 100 cards: 48 Commons, 20 Rares, 14 Super Rares, 10 Ultra Rares, and 8 Secret Rares. MSRP: $3.99 per pack.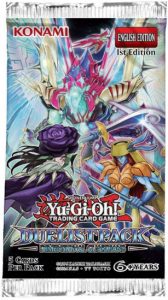 Additionally, Duelist Pack: Dimensional Guardians will be on store shelves May 26. Duelist Pack: Dimensional Guardians is a collection of cards used by heroes, Jack, Kite and Alexis, in their original incarnations from Yu-Gi-Oh! 5D's, Yu-Gi-Oh! ZEXAL and Yu-Gi-Oh! GX on their journey through the Synchro, Xyz and Fusion Dimensions. It also includes new cards that they use in Yu-Gi-Oh! ARC-V and brand-new cards for popular ARC-V strategies like Performapals, Speedroids, Frightfurs and Raidraptors that players won't find anywhere else. The Duelist Pack: Dimensional Guardians set has 45 cards: 22 commons, 10 Rares, 6 Super Rares and 7 Ultra Rares. MSRP: $1.99 per pack.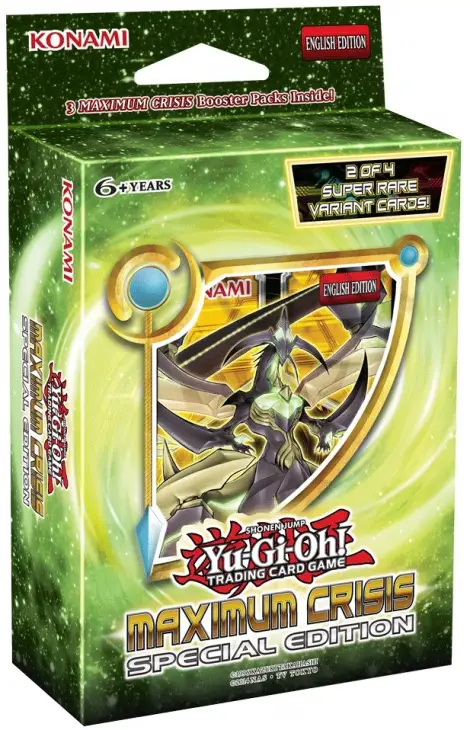 Helping retailers and Duelists gear up for the summer tournament season, At the GAMA Trade Show KONAMI introduces two new products in June. First, on June 9, players can maximize their Deck potential with Maximum Crisis Special Edition.  Each box comes with three packs of Maximum Crisis, one of two variant foil cards, and one of two foil preview cards of non-foil cards from the upcoming Summer 2017 booster set. MSRP: $9.99 per box.
On June 23, the Pendulum Evolution Special Booster set is released to stores nationwide.  This set features magicians with the might of dragons and sorcerers that defy the laws of nature. Players can also witness the magnificent and mystifying results of Pendulum Summoning's final evolution! Pendulum Evolution features powerful new Pendulum Monsters that can either stand on their own or in the service of that dreaded dragon, the Dominator of Dimensions itself, Supreme King Z-ARC (from Maximum Crisis). This all-foil set includes a mix of Ultra Rare and Super Rare cards, features several new cards plus dozens of the most popular cards from the Pendulum Monster era of the Yu-Gi-Oh! ARC-V animated TV series. MSRP: $3.99 per pack.
Duelists of all experience and skill levels will want to learn about Link Monsters, the newest type of monster to join the Yu-Gi-Oh! TCG. Starter Deck 2017*, releasing in July, can be played right out of the box, includes three Link Monsters, and teaches Duelists how to Link Summon – a vital skill in the new era of Dueling! MSRP: $9.99 per box.
* Please note that the title is subject to change.
Duelists can watch a new episode of Yu-Gi-Oh! ARC-V every Sunday on Nicktoons – check local listings for times. In addition, all-new Yu-Gi-Oh! ZEXAL episodes every Tuesday as well as all of classic Yu-Gi-Oh!, Yu-Gi-Oh! GX, and Yu-Gi-Oh! 5D's can be seen on www.yugioh.com in the United States. In Canada, Duelists can watch episodes of Yu-Gi-Oh! ARC-V every Friday and Saturday on Teletoon! For more information on KONAMI or the Yu-Gi-Oh! TRADING CARD GAME, please visit www.yugioh-card.com or call 310-220-8630 to speak directly with a Yu-Gi-Oh! customer support team member.
About The Yu-Gi-Oh! TCG
The Yu-Gi-Oh! TRADING CARD GAME is the #1 trading card game in the world with over 25 billion cards sold. It is a game of strategy, where players create individual Decks of cards collected from Structure Decks and Booster Packs. Two players engage in a Duel while using cards that represent powerful monsters, magical Spells and surprising Traps. Duelists with well-constructed Decks, dominating monsters, solid strategy and good fortune are the victors in the Yu-Gi-Oh! TCG. Konami Digital Entertainment, Inc. is the exclusive licensee and rights holder to the Yu-Gi-Oh! TCG in North America and Latin America.
About KONAMI
KONAMI is a leading developer, publisher and manufacturer of electronic entertainment properties and traditional trading card games. KONAMI's software titles include the popular franchises Metal Gear Solid, Silent Hill, DanceDanceRevolution and Castlevania, among other top sellers.  KONAMI is also the manufacturer of the wildly popular Yu-Gi-Oh! TRADING CARD GAME, which has sold more than 25 billion cards worldwide.  The latest information about KONAMI can be found on the Web at www.konami.com. KONAMI HOLDINGS CORPORATION is a publicly traded company based in Tokyo, Japan with subsidiaries, Konami Digital Entertainment Co., Ltd. in Tokyo, Japan, Konami Digital Entertainment, Inc. in the United States and Konami Digital Entertainment B.V. in Windsor, the United Kingdom. Details of the products published by KONAMI can be found at www.konami.com.