A DAWNING LIGHT HERALDS NEW BEGINNINGS IN THE Yu-Gi-Oh! TRADING CARD GAME!
El Segundo, Calif. (July 13, 2017) – Everything is about to change in the Yu-Gi-Oh! TRADING CARD GAME (TCG)! Time-honored themes return and a new way to Summon revolutionizes the way you play, as two new releases from Konami Digital Entertainment, Inc. (KONAMI) usher in the future of Dueling: Battles of Legend –Light's Revenge– and Starter Deck –Link Strike–.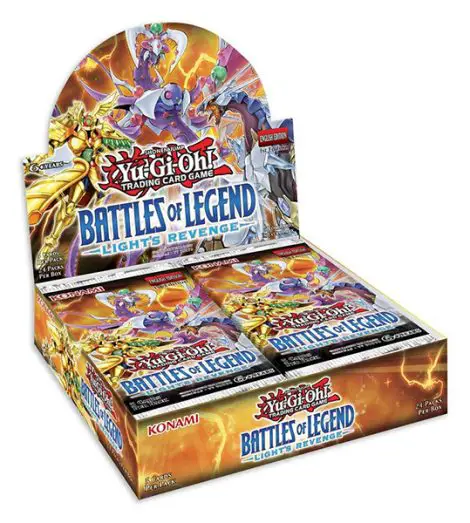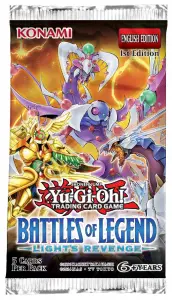 First, relive some of the greatest confrontations from the different eras of the Yu-Gi-Oh! animated series with Battles of Legend –Light's Revenge–. New cards for the Gladiator Beast, D/D/D, and HERO themes will make an impact, including Vision HERO Witch Raider, a massive "HERO" monster that demolishes all of your opponent's Spell and Traps.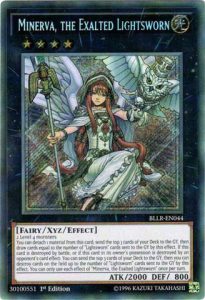 New Timelords, new Abyss Actors, and new support for the Dinosmasher's Fury Structure Deck are met by some of the most competitive Xyz and Synchros in tournaments today, from Crystal Wing Synchro Dragon to Minerva, the Exalted Lightsworn…an Xyz Monster so powerful it was only available as a Yu-Gi-Oh! Championship Series Prize Card, until now.
Battles of Legend –Light's Revenge– arrived July 7 with 80 all-foil cards: 60 Ultra Rares and 20 Secret Rares. MSRP: $3.99 per 5-card pack.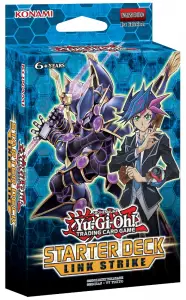 On July 21, Starter Deck –Link Strike– introduces the long-awaited Link Monsters! New rules for Link Summoning make where you Summon your monsters just as important as how and when you play them, giving you new ways to counter your opponent's plans and control the competition. Position your monsters and link them correctly to protect your cards, boost your Attack Points, or reuse whatever you link to; the possibilities are endless and the Yu-Gi-Oh! TRADING CARD GAME will never be the same.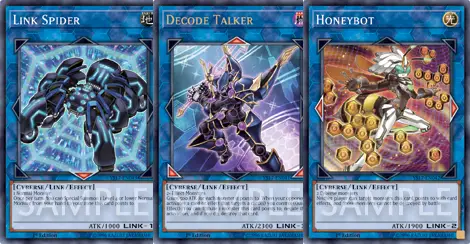 Build bigger combos, outwit your opponent's plays, and prepare for new challenges, as Link Monsters like Decode Talker and Link Spider revolutionize the way you Duel.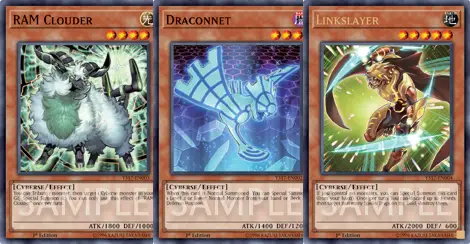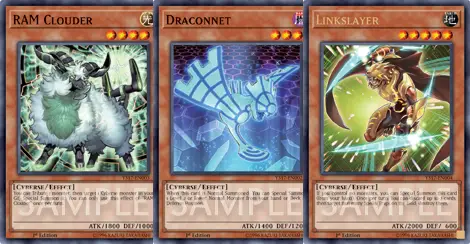 This set also introduces a brand-new Type of monster to join Dragons, Warriors, Spellcasters, and all the rest. Inspired by networking machinery, this new Type of monster takes today's digital technology and turns it into Dueling technology!
Starter Deck –Link Strike– launches July 21 with 43 cards: 38 Commons, 2 Ultra Rares, 3 Super Rares, a Beginner's Guide, and an updated Game Mat with new Extra Monster Zones. MSRP: $9.99 per box.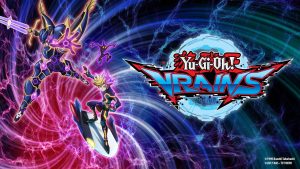 Duelists can now watch episodes of the exciting new Yu-Gi-Oh! animated series, Yu-Gi-Oh VRAINS, available subtitled on Crunchyroll. The series will be simulcast with a new episode available one hour after it is broadcast in Japan, at 6:25AM EST (Simulcast currently available in the US only). Watch here: http://www.crunchyroll.com/yu-gi-oh-vrains!
Additionally, Duelists can watch a new episode of Yu-Gi-Oh! ARC-V every Sunday on Nicktoons – check local listings for times. In addition, all-new Yu-Gi-Oh! ZEXAL episodes every Tuesday as well as all of classic Yu-Gi-Oh!, Yu-Gi-Oh! GX, and Yu-Gi-Oh! 5D's can be seen on www.yugioh.com in the United States. In Canada, Duelists can watch episodes of Yu-Gi-Oh! ARC-V every Friday and Saturday on Teletoon!
For more information on KONAMI or the Yu-Gi-Oh! TRADING CARD GAME, please visit www.yugioh-card.com or call 310-220-8630 to speak directly with a Yu-Gi-Oh! customer support team member.
About The Yu-Gi-Oh! TCG
The Yu-Gi-Oh! TRADING CARD GAME is the #1 trading card game in the world with over 25 billion cards sold. It is a game of strategy, where players create individual Decks of cards collected from Structure Decks and Booster Packs. Two players engage in a Duel while using cards that represent powerful monsters, magical Spells and surprising Traps. Duelists with well-constructed Decks, dominating monsters, solid strategy and good fortune are the victors in the Yu-Gi-Oh! TCG. Konami Digital Entertainment, Inc. is the exclusive licensee and rights holder to the Yu-Gi-Oh! TCG in North America and Latin America.
About KONAMI
KONAMI is a leading developer, publisher and manufacturer of electronic entertainment properties and traditional trading card games. KONAMI's software titles include the popular franchises Metal Gear Solid, Silent Hill, DanceDanceRevolution and Castlevania, among other top sellers. KONAMI is also the manufacturer of the wildly popular Yu-Gi-Oh! TRADING CARD GAME, which has sold more than 25 billion cards worldwide. The latest information about KONAMI can be found on the Web at www.konami.com. KONAMI HOLDINGS CORPORATION is a publicly traded company based in Tokyo, Japan with subsidiaries, Konami Digital Entertainment Co., Ltd. in Tokyo, Japan, Konami Digital Entertainment, Inc. in the United States and Konami Digital Entertainment B.V. in Windsor, the United Kingdom. Details of the products published by KONAMI can be found at www.konami.com.