Funko and GameStop to Introduce More Yu-Gi-Oh! Branded Products Globally
NEW YORK  August 2, 2017 – 4K Media Inc., the Konami Digital Entertainment, Inc. subsidiary that manages the Yu-Gi-Oh! brand outside of Asia, today announced it has signed licensing agreements with both Funko, a purveyor of pop culture and licensed-focused collectibles, and GameStop, a global retailer of specialty brands and games to offer some all new Yu-Gi-Oh! Collectibles. 
The two deals – negotiated and announced by Jennifer Coleman, Vice President of Licensing and Marketing at 4K Media – bring a new array of Yu-Gi-Oh! collectibles to the worldwide marketplace (outside of Asia).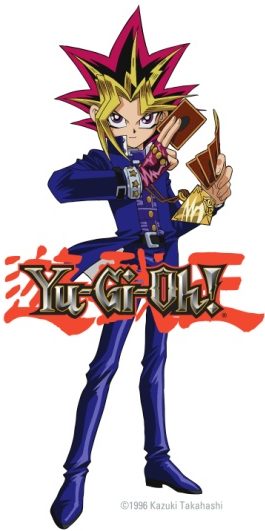 "We are elated to welcome both Funko and GameStop to the Yu-Gi-Oh! family. We are impressed with both companies' creative designs for new and engaging collectibles encompassing so many of our central characters and monsters," said Coleman.  "Yu-Gi-Oh! fans around the globe eagerly await each new licensed product introduction, which not only keeps the brand fresh and front of mind, but also serves to invigorate demand for all things Yu-Gi-Oh!"
Funko will be launching a line of stylized vinyl Yu-Gi-Oh! Collectibles figures and other related products focusing on the fans' favorite Yu-Gi-Oh! characters and monsters.
Funko CEO Brian Mariotti said, "We're tremendously excited about Funko's development of a Yu-Gi-Oh! collectibles line and are honored to be associated with a brand that continues to entertain and engage fans that span such a broad demographic around the world."
GameStop is also creating a distinctive line of 4-inch New Yu-Gi-Oh! Collectibles figurines available to Yu-Gi-Oh! fans on its on its website(s) and in its stores, as well as in many of its partners' stores around the world. 
"Yu-Gi-Oh! has had nice success as a trading card game, which makes the brand an ideal fit with GameStop, as one of the largest suppliers of the cards globally" added Alex Jones, Senior Manager of Licensed Products – International at GameStop.  "Our loyal game playing customers will be thrilled with this new array of exclusive Yu-Gi-Oh! collectible characters we will be introducing to our stores."
About GameStop
GameStop Corp. (NYSE:GME), a Fortune 500 company headquartered in Grapevine, Texas, is a global, multichannel video game, consumer electronics and wireless services retailer. GameStop operates more than 7,500 stores across 14 countries. The company's consumer product network also includes www.gamestop.com and ThinkGeek, www.thinkgeek.com, the premier retailer for the global geek community featuring exclusive and unique video game and pop culture products. Our Technology Brands segment includes 1,508 Simply Mac, Spring Mobile AT&T and Cricket stores. Simply Mac, www.simplymac.com, sells the full line of Apple products, including laptops, tablets, and smartphones and offers Apple certified warranty and repair services. Spring Mobile, www.springmobile.com, sells all of AT&T's products and services, including DIRECTV and offers pre-paid wireless services, devices and related accessories through its Cricket branded stores in select markets in the U.S.
General information about GameStop Corp. can be obtained at the company's corporate website.  Follow @GameStop and @GameStopCorp. on Twitter and find GameStop on Facebook at www.facebook.com/GameStop.
About FUNKO
Headquartered in Everett, WA, Funko is a leading pop culture consumer products company. Known for its whimsical, fun and unique products that enable fans to express their affinity for their favorite "something"—whether it is a movie, TV show, video game, musician or sports team, Funko infuses its distinct designs and aesthetic sensibility into one of the industry's largest portfolios of licensed content over a wide variety of product categories, including figures, plush, accessories, apparel and homewares. Funko's Pop! Vinyl is one of the most popular stylized vinyl collectibles on the market, selling millions of figures to collectors around the world.  In 2015, Funko received a majority investment from ACON Investments, L.L.C, a diversified international private equity firm. Learn more at https://funko.com/, and follow us on Twitter (@OriginalFunko) and Instagram (@OriginalFunko).
About 4K Media
New York City-based 4K Media Inc. (a wholly owned subsidiary of Konami Digital Entertainment, Inc.) is a brand management and production company best known for its management of the Yu-Gi-Oh! franchise outside of Asia. This year, the Yu-Gi-Oh! anime brand celebrates its 16th anniversary of entertaining and engaging young audiences in the United States and globally outside of Asia through its TV series (over 800 episodes), three feature films, consumer products, the mobile game Yu-Gi-Oh! Duel Links as well as the immensely popular trading card game.  Beyond Yu-Gi-Oh!, 4K Media is actively expanding its licensing and production slate to incorporate other brands such as Rebecca Bonbon.
The Yu-Gi-Oh! website is available at www.yugioh.com