KONAMI Celebrates with Commemorative Campaign Event 
Konami Digital Entertainment, Inc. today announces that its mobile and PC game Yu-Gi-Oh! Duel Links has reached a milestone of more than 80 million downloads since its global launch in January 2017. To celebrate, KONAMI will be running a Commemorative Campaign for Duelists to acquire gems to build their decks.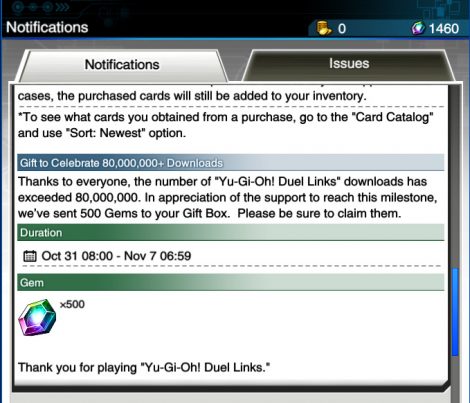 The 80 million downloads Commemorative Campaign will run from November 1-7. Duelists can receive up to 500 gems by consistently logging in to play during this period. In addition to the login event, KONAMI will be running a special 72-hour sale that includes all the past 15 Main Boxes and previous Mini Boxes at a discounted price. The sale will run starting November 1st.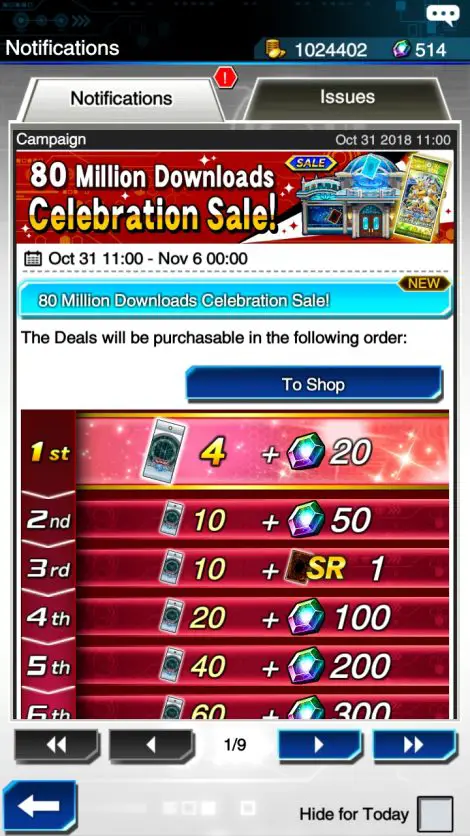 Based on the official Yu-Gi-Oh! TRADING CARD GAME, Yu-Gi-Oh! Duel Links brings the popular game to life on mobile devices and on PC. Duelists can kindle the spirit of Yami Yugi, Jaden Yuki, Yusei Fudo and other beloved characters from the Yu-Gi-Oh! franchise in competitive card battle action.
The Yu-Gi-Oh! series is based on the manga Yu-Gi-Oh! (by Kazuki Takahashi), which was serialized in SHUEISHA Inc.'s Weekly Shonen Jump magazine from 1996, and is now on the sixth iteration of the "Yu-Gi-Oh!" animated series (currently airing on TV Tokyo-affiliated channels). KONAMI released the first console game in 1998, and the series, including the trading card game, is still enjoyed by countless customers worldwide. KONAMI continues to develop and distribute a wide range of Yu-Gi-Oh! content to deliver the fun and excitement of the series to customers around the globe.
Yu-Gi-Oh! Duel Links is available for free at the App Store® for iPad®, iPhone® and iPod touch®, Google Play™ for Android™ devices, and for PC via Steam.
For more information, visit https://www.konami.com/yugioh/duel_links/en/