Konami Digital Entertainment – January 11, 2017 – Konami Digital Entertainment Co., Ltd. announces that today the mobile game "Yu-Gi-Oh! DUEL LINKS" has been released globally. The global release will start from North America, Asia and Oceania regions, followed by Europe, South America and Africa regions. The game will be released in 11 languages and approximately 150 countries and regions*. Celebrating its release, we will distribute Gems and log-in campaign.... Read More
Free-to-play title for the Nintendo 3DS is due the first week of July
Yu-Gi-Oh! Saikyou Card Battle will launch for 3DS in Japan as a free-to-play download title on July 6, Konami announced. ... Read More
New Yu-Gi-Oh! game for the Nintendo 3DS due out in Japan this summer.
Yu-Gi-Oh! Saikyou Card Battle is due out this digitally this summer in Japan, the 3DS title features a cast of game-original characters (it is unknown if existing characters will appear). Players take on the role of the protagonist, a young boy with fiery hair, as he duels against a number of rivals. There is also a character named Guide-san who will support you in duels (and is similar in appearance to the character on the "Tour Guide From The Underworld" card).... Read More
iOS/Android game to launch in Japan in late April

The official website for the Yu-Gi-Oh! Duel Links game for iOS and Android devices started streaming a new promotional video on Friday  March 18th The video previews the Duel World single-player mode, Online Matching mode, and characters.... Read More
KONAMI ANNOUNCES RELEASE OF NEW Yu-Gi-Oh! CONTENT ACROSS MULTIPLE FORMATS FOR 2016
EL SEGUNDO, Calif. – Jan. 6, 2015 – Konami Digital Entertainment, Inc. has announced it will release key new Yu-Gi-Oh! games across a number of formats in 2016, allowing an even wider audience to enjoy the series, which is already popular worldwide as a card game and range of console titles.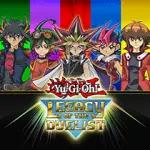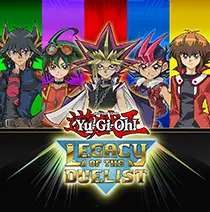 In readiness of this milestone year, KONAMI is engaged in a number of initiatives to bring the fun of the Yu-Gi-Oh! series to an ever larger range of devices. In the spring, a new mobile game Yu-Gi-Oh! Duel Links will be released, followed by a new game for the Nintendo 3DS platform in the summer. KONAMI will also release a new online game for consoles and PC in the winter while the popular console game Yu-Gi-Oh! Legacy of the Duelist and mobile game Yu-Gi-Oh! Duel Generation will both receive major updates.
The Yu-Gi-Oh! series is based on both the manga Yu-Gi-Oh! (by Kazuki Takahashi), which has been serialized in SHUEISHA Inc.'s Weekly Shonen Jump magazine from 1996, and the subsequent "Yu-Gi-Oh!" anime series (currently airing on TV Tokyo-affiliated channels). KONAMI released the first console game in 1998, and the series, including the trading card game, is still enjoyed by countless players worldwide. KONAMI will continue to develop and distribute a wide range of Yu-Gi-Oh! content to deliver the fun and excitement of the series to players around the globe.
About KONAMI 
KONAMI is a leading developer, publisher and manufacturer of electronic entertainment properties and traditional trading card games. KONAMI's software titles include the popular franchises Metal Gear Solid, Pro Evolution Soccer, Silent Hill, DanceDanceRevolution and Castlevania, among other top sellers. KONAMI is also the manufacturer of the wildly popular Yu-Gi-Oh! TRADING CARD GAME, which has sold more than 25 billion cards worldwide. The latest information about KONAMI can be found on the Web at www.konami.com . KONAMI HOLDINGS CORPORATION is a publicly traded company based in Tokyo, Japan with subsidiaries, Konami Digital Entertainment Co., Ltd. in Tokyo, Japan, Konami Digital Entertainment, Inc. in the United States and Konami Digital Entertainment B.V. in Windsor, the United Kingdom. Details of the products published by KONAMI can be found at www.konami.com .
UK Press Release:
Continue reading Konami Confirms New Yu-Gi-Oh! Games For Consoles, Handhelds, and Smartphones →
Konami announces Yu-Gi-Oh! games lineup at Jump Festa 2016.
At this year's Jump Festa, Konami revealed that they're currently developing three new Yu-Gi-Oh! games, with 3DS, smartphone, and PC each getting a version release.... Read More
Legacy of the Duelist for PS4 is now on sale on the Play Station Store for $14.99 USD a savings of 25%!... Read More
YuGiOh! World is your one stop Yu-Gi-Oh! site complete with TCG, TV (anime)series, and the GameBoy, NDS, and PS/PSP video games info.